Introducing the concept of "Responsible Research and Innovation" in university
The HEIRRI project (Higher Education Institutions and Responsible Research and Innovation) is an initiative funded by the European Commission that wants to integrate the concept of "Responsible Research and Innovation" (RRI) within the education of future professionals involved in the rese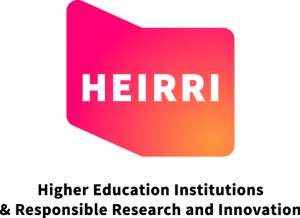 arch and innovation system, in order to promote its alignment with societal needs, values and expectations. HEIRRI understands RRI as a transformative, critical and radical concept, although also considering the six key aspects identified by the European Commission (public engagement, gender, open access, science education, ethics and governance).
HEIRRI has done a thorough State of the Art Review and has published a Database with 23 exemplary cases of RRI teaching. Results from the Review and Database are the basis for the training programs and formative materials that are being developed now, which address different educational levels and are in multimedia formats. Strong plans of internationalization and communication guarantee the future use of the materials around the world. All HEIRRI results will be shared on open access.
The HEIRRI project has a total duration of three years (Sep 2015 – Aug 2018). It is coordinated by Pompeu Fabra University (Spain), who works together with University of Bergen (Norway), Aarhus University (Denmark), Institute for Advanced Studies (Austria), University of Split (Croatia), the European network of science centres and museums Ecsite (Belgium), "la Caixa" Foundation (Spain), the network of universities ACUP (Spain), which chairs the Global University Network for Innovation, GUNi, and the private company Innovatec (Spain).
For more information, please visit www.heirri.eu